Buenos Aires – First off, thanks to all who sent Henry good wishes, he's out of the hospital, doing well, and staying with me until he's back on his feet. The aforementioned hospital (a couple days ago) pumped two last units of whole blood into him, removed his IV and told him to go home and "take better care of himself." Ahh the concern. Well, the lady in the kitchen who makes the jello came running and hugged him on his way out…
Before heading into La Plata yesterday for visiting hours, I figured I ought to eat something more nutritious than hospital jello, so I popped in to a small neighoborhood cafe, BN Cafe, Peña 2300, for a bite. This is a gleaming white, IKEA-ish decor, teahouse. That's their specialty, teas – several dozen of them in tins lining the walls, and afternoon tea is popular here.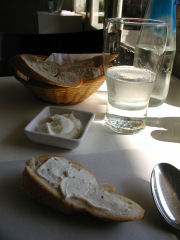 I've walked by the spot numerous times and sort of assumed that this was pretty much all they had, but being a gorgeous day, there were people sitting outside at tables eating lunch. So, why not?
Lunchtime at BN Cafe is primarily sandwiches and salads, and they were promoting in large letters on a chalkboard their Salmón NY – a "bagel with smoked salmon, chives, and cream cheese." I did mention a couple of weeks ago that I missed bagels… So lunch started with a basket of the ubiquitous white bread, but served with a tasty little herbed whipped cream cheese.
In addition to the sandwhich/salad board, BN offers a soup of the day. Yesterday it was a cream of spinach soup, and spinach is good for you.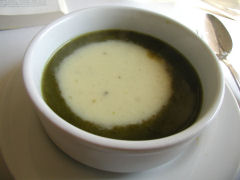 It was actually a rather tasty soup, nice and peppery, with plenty of finely chopped spinach. I kind of liked that the "cream of" wasn't what I'd expected. As you can see from the picture, they made the soup, and then dolloped some cream on top to be mixed in. It made for an attractive presentation, and worked out pretty much the same in the end.
I wasn't expecting much out of the New York deli sandwhich that was being offered, but I just couldn't resist checking it out. Not surprisingly, they don't have a clue here what a bagel is. This was just basic white bread, shaped into a rather large ring, and topped with sesame seeds.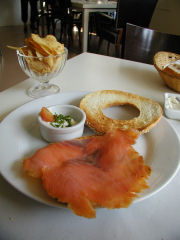 My waitress assured me that this was the authentic thing, just like I'd get if I ever visited New York (and served with potato chips, which "Americans eat every day for lunch"). I bit my tongue. Why destroy the illusions (delusions?) of my perky attendant? My "bagel" was topped with a wafer-thin slice of smoked salmon, reasonably good, and served with a side of whipped cream cheese with a few chives scattered on top, and half of a cherry tomato. Was it tasty? Setting aside my faint hopes for the real thing, yes. I think I'd go for a more "local" sandwich in the future. By the way, they advertise "sushi all day" on Saturdays and "brunch all day" on Sundays… I wonder if they have sushi other than salmon?
This morning, Henry decided that I need to eat better for breakfast. He seems to think that a cup of black coffee does not provide sufficient nutrition to start the day. Very odd. Besides, he wanted some hard-boiled eggs. For myself, I whipped up a favorite fried egg dish. I don't remember where I originally got this from, but I find it near impossible to fry up an egg without making this one. It's, well, tangy…
2 extra-large eggs
1 tablespoon chopped chives or green onions
1 teaspoon chopped tarragon (or another favorite herb)
¼ cup sherry or balsamic vinegar
1 tablespoon oil or butter
salt and pepper
toast

Make the toast. I'll leave it to you to figure that one out. Fry the eggs in oil or butter. I prefer to leave the yolks runny and the whites just set, but feel free to overcook them if you like. Put the eggs on the toast. Toss the chives and tarragon into the pan and add a good pinch of salt and pepper. Stir-fry for about 30 seconds. Add the vinegar, increase the heat, and stir rapidly to deglaze the pan. Let the vinegar reduce by almost half, then remove from heat and drizzle the mixture over your eggs and toast.
[Note: this restaurant has closed.]