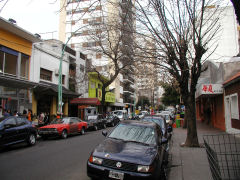 Buenos Aires – Not the pants, but the Chinese. Specifically, the Taiwanese, who settled the eastern part of the Belgrano neighborhood long ago. The area is known as Barrio Chino, or Chinatown. It is predominately a residential area, just north and east of the Belgrano "C" train station, and easy to get to by train, subway or bus. There is a small strip that is the commercial part of Barrio Chino – literally the three blocks from 2000 – 2300 on a street called Arribeños that leads from the station. Much like chinatowns anywhere there is a mix of small and large restaurants, some are mere hole-in-the-walls, other are fancy tea garden spots. Markets line the three blocks, some smaller with specialties (one shop seemed to have every form of soy product known to man), others large supermarkets that specialize in all sorts of Asian products. There are street vendors serving up food, souvenirs, herbs, incense, etc.
What is different from most large city chinatowns is the understated character. There are no massive gates, or statues, or banners lining the streets. Tourism exists, but it is laid-back, and probably more folks like myself, in search of either a market to buy things at, or a restaurant for decent chinese food. One interesting such places was Siempre Verde ("forever green"), Arribeños 2127 in Barrio Chino [As of April 2012: Av. Rivadavia 548 right off Plaza de Mayo], one of the few vegetarian restaurants I've seen in Buenos Aires. I decided that given my indulgence in half a pound of beef liver last eve, something a bit lighter wouldn't be a bad idea.
My first inclination was to try the ravioles chinos a la plancha, just to compare them with the ones I had in El Dragón the other night.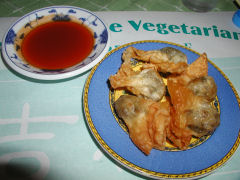 Unfortunately, they were out of them. My waitress recommended starting with the wantans fritos, or fried won-tons. These were small pockets of spinach and spices, deep-fried to a golden brown and served with a completely passable sweet and sour sauce.
I'm not a big fan of the "meat substitute" category of vegetarian food – you know; fake chicken, fake beef, fake fish sort of things. So, for a main course I had the Tofu Ma-Puo, one of the few main dishes not of that type, and also billed as picante. I do like my spices.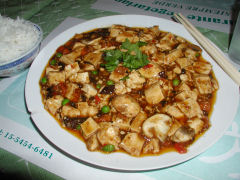 I received a large plate of stewed cubes of tofu, a few different types of mushrooms, carrots, fresh peas, fermented black beans, and brightly shining chopped fresh chilies. Quite good and quite spicy!
I continued my wander in and out of shops and managed to pick up some nices spices and sauces to add to my kitchen stock – probably the best selection was at Casa China, at #2257. There's also a huge market at #2163 dedicated to macrobiotic and organic foodstuffs, something worth knowing for those looking for a good selection.