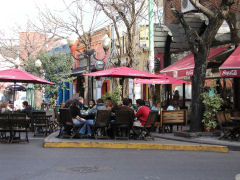 Buenos Aires – The area I wandered into last night in search of Vietnamese food looked charming, so I thought I'd return during the day. I found myself in SoHo, Palermo SoHo that is, but much the same as the one in New York, this is the current chi-chi name for this section of Palermo Viejo, or Old Palermo. Home to myriad shops and cafes de moda (in fashion), this is a major tourist destination. I found myself hearing a steady stream of more American English than anything else – the backpacks and cameras were a bit of a clue as well.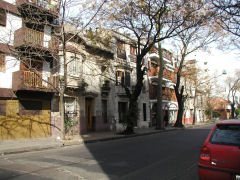 There are some great little side streets to explore as well. Small, attractive, one and two-story homes line the streets. Many are for sale or rent, and a quick look in realtor windows shows the trendiness of price increases as well. At the same time, markets offer some of the more "ethnic" items to be found – things like chivito (baby goat), Middle Eastern and Indian spices, and interesting fruits and vegetables. On the far western edge of the neighborhood is the "Arab" section, however, based on the restaurants and shops found, the population seems to be more Armenian than anything else. Certainly Arab and Muslim influenced, but until 1991, part of the Soviet Union. [Edit: Actually, a bit of research later on revealed that this area's original inhabitants were virtually all Armenian and Greek.]
On one such side street I found the restaurant Sarkis, Thames 1101, which I'd vaguely heard had some of, if not the, best Middle Eastern food in the city. It's not a small place, easily seating 150 people in a large L-shaped dining room. At lunchtime it wasn't crazy-busy, but there were certainly a fair number of business and family lunches going on, as well as a couple of solo folk like myself. I let my waiter guide me through the menu and make recommendations, and he did a great job! It was a bit too much food for lunch, but then, I'm trying for that Buenos Aires routine, with my mid-day meal being the biggie.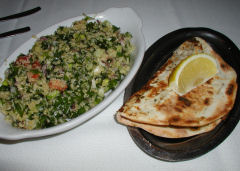 For a first round, a fairly large dish of tabouleh, the classic grain, green onion, cucumber and tomato salad. The version here is a little heavy on the onion end, but quite good. This was accompanied by an empanada lasmayin, commonly known as the "Arab-style" empanada. At Sarkis, this is a grilled pita bread folded over a filling of a paste made from beef, pimientos, olives and a touch of spice. The lemon served atop brightens up the flavor perfectly.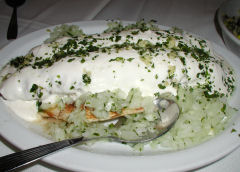 For my main course, my waiter recommended the kafta. My past experience with this dish is that it tends to be somewhat lumpy, vaguely sausage shaped pieces of ground meat and spices molded around a skewer and charcoal grilled. They're rarely interesting as a main course, and usually not all that interesting as a snack. I was given a choice of lamb or beef, and because it's more traditional, and something different in Buenos Aires, I went with the lamb. What arrived was a huge platter piled with two huge lamb "brochettes". Yes, it was ground lamb and spices wrapped around a skewer for charcoal grilling. However, it wasn't tasteless, it was fantastic. It was topped with a thick, creamy, lemon yogurt mixed with fresh mint and parsley, and was sitting atop a crispy, broiled, open pita soaked in the lamb drippings, and plenty of chopped raw onions. Big as it was (really, enough for two people for lunch), I couldn't stop myself from finishing it all.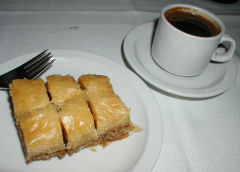 My meal ended with a thick, properly made, café oriental, essentially very dark espresso with sludgy coffee grounds in the bottom. This was accompanied by one of the best baklavas I've ever had. Fresh tasting, delicate, with a rich nut paste in the center and doused in perfumey honey, it's a don't miss item! My waiter brought me a complimentary glass of champagne to finish off the meal, and I waddled off into the afternoon for the sum total of 37 pesos ($13).