Buenos Aires – Back in the big city and I had this hankering for some spicy food. I'd heard there was a reasonably authentic Vietnamese restaurant in Palermo and set out on the apparent 15 minute walk from home. It turned out closer to half an hour and truly unfortunately has been replaced by a baby-ware shop. Since when is bulk baby food more important than a springroll? Still in the mood for something in that genre, I remembered that my friend Michael had recommended a Szechuan style restaurant in the Centro area. A quick two block walk to the subway and I was on my way crosstown.
El Dragón, Maipú 841 (between Paraguay and Cordoba), is a small spot on this side street.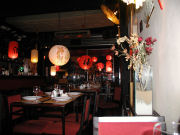 It is immediately spot-able by the hanging paper lanterns outside (and inside, providing a softly glowing light). Arriving a little after 9 p.m. I found one person in the restaurant. He was paying his bill and I'm always reticent about being the only customer in an eatery, but it came highly recommended (Michael knows something about food), so why not. I remained the only customer throughout the next hour and a half. I asked – and, recalling my own thoughts on restaurants in the neighborhood from a few days ago – most of their business is in the afternoon and early evening, from local office workers. Regardless, they stay open until midnight Monday through Saturday. [This place closed in 2009.]
For a first course, I went with a cup of the sopa agridolce, or as we think of it, hot and sour soup.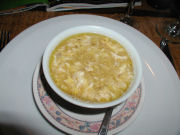 From the moment the steaming bowl was set in front of me I knew that I'd found a special place. The piquant vinegar filled the air, balanced by a touch of soy and sugar. It was definitely different from what I typically think of for this soup – more of the hot and sour version of egg-drop soup. No shredded vegetables or meat, but the flavor was right on target.
I ordered a half-bottle of Bodegas Weinert Carrascal 2002, which was offered "on special" at 9 pesos (just over $3). Weinert is a fairly well known and respected winery, producing solid, enjoyable wines. The Carrascal is a blend of Cabernet Sauvignon, Merlot and Malbec (3 of the 5 "Bordeaux Blend" grapes, the other two being Cabernet Franc and Petite Verdot), aged in French oak barrels for two years before bottling. If you can imagine milk-chocolate covered dried cherries, with just a touch of prune, and decent acidity, you'd have the flavor profile. Though it worked fine with my Chinese food, it probably would work better with pork – maybe that's why it matched with my dumplings best (coming up). The "on special" thing is quite common here, wineries give away some amount of wine to restaurants and stores in order to ensure visibility and promotion – in this case, El Dragón had it displayed on the bar (full bar by the way), posted in the window, and the special was the first page of the menu. The balance of the winelist was at the back, and it's a decent winelist. The beer selection, which would have been my first choice had they had something I wanted, consisted of Heineken and Amstel (our "German beers" – umm… no, Dutch, and the same company).
I wanted some dumplings, and the raviolis chinos a la plancha, or grilled dumplings, sounded like the right move.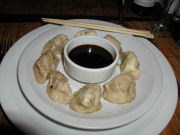 Cooked in potsticker style, these were crispy on the bottom and steamed through on the top. The filling was a mix of ground pork, garlicky sausage, and chopped green onion. Dipped into the pungent soy based sauce they made a great appetizer! The charming waitress asked me if I wanted chopsticks before I had a chance to make the request.
As a main course, one of my favorites is Kung Pao Chicken.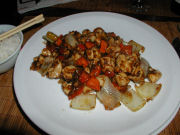 This dish is classically made (yes, I've read diatribes by various self-styled authorities that this dish is not a classic, but an American invention, but bluntly, that's nonsense – see the quote below) with chicken, peanuts, hot peppers, and vegetables stir-fried together. The El Dragón version is somewhat different than what I'd normally expect. First, and most importantly, it doesn't include any peanuts. Nor any whole or pieces of chilies. The vegetables; carrot, onion, and zucchini (not exactly a staple of Chinese cuisine); were boiled until limp as Bob Dole without his ED medication, before being added to the stir-fry. That's classic for Argentinian cuisine. Still, the dish was delightfully spicy, made with a generous dollop of chili-garlic-bean paste that left my bald little head sweating like it was a Dog-Day in New York City. Other than the missing peanuts, I can't really fault it.
Gong Bao Ji Ding – This dish, also known as Kung Pao chicken, has the curious distinction of having been labeled as politically incorrect during the Cultural Revolution. It is named after a late Qing Dynasty (late nineteenth century) governor of Sichuan, Ding Baozhen, who is said to have particularly enjoyed eating it – "gong bao" was his official title. No one can quite agree on the details of its origins: some say it was a dish Ding Baozhen brought with him from his home province of Guizhou; others that he ate it in a modest restaurant when he went out in humble dress to observe the real lives of his subjects; still others, rather implausibly, that his chef invented the finely chopped chicken dish because Ding Baozhen had bad teeth. Whatever the truth of its origins, its association with an imperial bureaucrat was enough to provoke the wrath of the Cultural Revolution radicals, and it was renamed "fast-fried chicken cubes" (hong bao ji ding) or "chicken cubes with seared chiles" (hu la ji ding) until its political rehabilitation in the 1980s. – from Land of Plenty; A Treasury of Sichuan Cooking
My waitress came over to talk me into a little dessert – sort of typical Argentinian desserts like flan, plus litchis.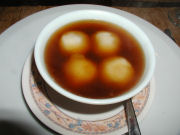 I asked, and she assured me, that the litchis were fresh, not canned (something I have my doubts about – given Argentina's strict agricultural laws, it would be incredibly difficult to get them here [At the time this seemed to be true, but by a year or so later I was seeing fresh litchis in Chinatown when in season – not sure where they're being grown, or if they're being imported.]). She went back to confirm this with the chef and returned a few moments later to say that the chef wanted to make something special that wasn't on the menu. He was offering a dumpling filled with sweetened peanut paste (damn – there were my peanuts) in a caramel sauce. That sounded too good to pass up. It was. This wasn't peanut butter, it was a paste of roughly crushed peanuts with large crystal brown sugar, in steamed rice dumplings, served in a warm caramel soup. I asked, there's no name for the dish, it's just the "special dessert of the house." Fantastic!
Need I say that I recommend this place?