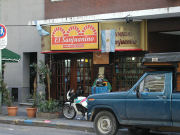 Buenos Aires – A bit further south than the other two empanada regions I've looked at is the province of San Juan. Along the western border with Chile, just north of the midpoint, and just north of the well known wine region of Mendoza. The cuisine of San Juan is considered less rustic than that of the northwest territories, and it shows in what was delivered on the plate.
The only venue that I've heard of here that makes a point of specializing in the cuisine of the region is a little place just down the street from the Palais de Glace and the Cementerio that I talked about in my last post. It is called El Sanjuanino (Posadas 1515, Recoleta), a somewhat tourist-oriented spot. While the cuisine is authentic, the ambience leans towards all show. Waiters keep up non-stop chatter and joking around with tables in a mix of Spanish, English, Italian, German, and French.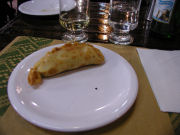 With the exception of a police officer having lunch at a back table, the remainder of the 40-some seats were all taken up with tourists – quite a few from the U.S., some Australians, an Englishman, and some German couples.
This is the first place that I've seen empanadas offered deep-fried, and the specialty of the house is one such filled with ground beef, a ton of onions, and a slightly peppery, slightly tomato-ey sauce – the filling basically reminded me of a sloppy joe! A regular baked carne picante once again ran rampant with onions.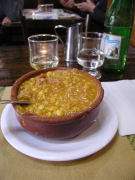 A bit of research (as much as one can rely on random web sources) reveals that this is the defining element in San Juan's empanadas – equal parts of chopped meat and onions.
As long as I've been following a theme, I also ordered a bowl of the house special locro, the corn based stew I've mentioned in a couple of posts. This version was a very rich mix of white corn, puréed squash, lots of salt, and "variety meats" – i.e., tripe and intestine, and several bones that may have once held meat, but no longer did. It was a little salty but quite good. One big plus, there were little bowls of chili paste available to spice it up.