Buenos Aires – It seems that I'm living sort of on the line between the neighborhoods of Recoleta and Barrio Norte, and though I thought I was living in the former, more folks are telling me I'm living in the latter.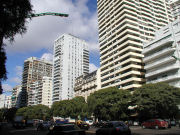 I headed more towards the north this morning to explore this area. As I went deeper into it, I found more and more of an Italian feel – many of the shops have Italian names, or even specialize in Italian products (found a great little cheese, meat, and preserved food shop, all of Italian origin).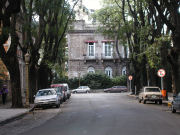 This area also leads very quickly into the Palermo Chico neighborhood, generally considered the most expensive, and home of the wealthiest people here. The area is a mix of high-rise luxury apartments and old mansions.
My goal today – the empanadas of Salta, another region in the northwest of Argentina. It is the next region north of Catamarca, which I talked about the other day, and literally borders on the three countries of Chile, Bolivia, and Paraguay. Salta, and in particular its sub-region of Cafayate, is home to a burgeoning wine business, and is sort of considered the "next" spot to watch for wines from. I've read about two different spots in BA that specialize in empanadas salteñas, and both were on my planned walking route.
First, the similarities, that seem to be the hallmark of this version. The crust is thinner and almost more crackerlike than others I've tried, truthfully, in flavor and texture reminding me of a slightly soft Saltine (hmmm… I wonder if the name… no, it's gotta be a coincidence). The fillings all seem to contain green onions, which are apparently very popular in the cooking of Salta.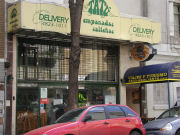 The venues and their differences? Tatú (armadillo) is a small storefront at Agüero 1978 in Barrio Norte. Virtually all of their business is takeout and delivery, and they're clearly oriented around some volume. Their empanadas are stored on racks in a trio of freezers, are quickly laid out onto long metal sheet pans, and loaded onto a very slow moving conveyor belt that moves them through a high temperature oven over the course of about ten minutes. There is a small counter on the side of the kitchen – three stools for crazy people like myself who want to eat there. No other food is offered.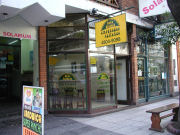 Doña Eulogia is likewise a small storefront, at Castex 3425 in Palermo Chico. I have to admit its location ended up surprising me – it was sort of like finding a pizza-by-the-slice counter in the middle of Upper East Side Fifth Avenue. It is surrounded by chic restaurants, high-end hair salons, and upscale clothing shops. It is also little more than a takeout counter, with half a dozen counter seats, and a ramshackle kitchen. The empañadas are piled in a refrigerator and tossed into an old gas oven, looking much like a typical pizza oven, to emerge about ten minutes later hot and ready to eat. The lady Eulogia herself, by the way, is apparently a woman of some note from the town of La Poma, in Salta, and has something to do with several songs and poems that memorialize the earthquake of 1930…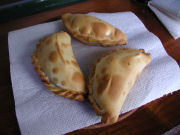 Both venues offer three particularly unusual fillings – the tatú, which is listed as "carne muy, muy picante" (very spicy meat); the eulogia, which is beef with olives and hard-boiled eggs (i'm guessing these must be classics of Salta versions since both places are named after one of them); and the third, clearly Italian influenced – tomato, mozzarella, and basil. The one additional similarity is that "muy, muy picante" consists of lots of chopped green onions and a few flakes of red pepper – Taco Bell's mild sauce has more heat. However, the differences from there are noticeable.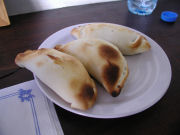 Tatú's tatú is filled with ground beef, a lot of green onion, a lot of salt and nothing else; their eulogia has ground beef, minced hard-boiled egg and a few scattered green olive halves, and nothing else; I tried one of their choclo versions – which is essentially roasted sweet corn and cheese, it was sweet, and pretty bland. Doña Eulogia's tatú consisted of diced steak, potatoes, green onion, and a bit more spice; their eulogia likewise had diced beef, potatoes, a couple of kinds of green olives, and chopped egg; here I tried the tomato-mozzarella version, which was good, but with no more than a few flecks of dried basil. Overall, obviously, I recommend the latter venue.