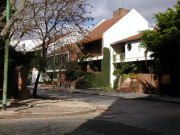 Buenos Aires – Had an invitation from a local wine pro, Victor Honoré, for lunch and a wine tasting at his place in Belgrano. My first visit to the Belgrano neighborhood. Que lindo! as they say here (how cute!). It's sort of a suburb with beautiful townhouses, rowhouses, and relatively modern apartment buildings. It's also the first neighborhood I've been in here that has completely tree-lined streets.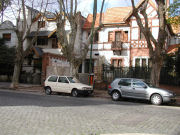 Victor and his wife Susanne just moved into a charming three-bedroom apartment on a quiet corner. It's got a great view and an incredible kitchen. They put together a wonderful spread of cheeses, sliced meats and sausages, and salads. We sampled through some random wines as we nibbled, and then settled down to a blind tasting (cata a ciegas) of eight wines (which, it was intimated, were among the best of Argentinian Malbecs). There was definitely no agreement among the seven of us present, though enough of us favored the "first-place" wine as to give it a blatant lead over the others. My thoughts (and in the order that I preferred them) and approximate prices in the U.S.:
Yacochuya Tinto 2000, Cafayate, Salta, Argentina – roasted coffee, spice, red fruits, and one of the few wines in the tasting that showed any real tannins. By the way, this, and my second favorite, turn out to be made under the consultation of famed winemaker Michel Rolland. $50. Highly recommended.
Bodega Monteviejo "Val de Flores" 2002, Mendoza, Argentina – dark chocolate, black cherries, a bit of oak, and well balanced. $45 Highly recommended.
Kalleske Shiraz Greenock 2003, Barossa Valley, Australia – I started to taste this and immediately said to myself, this is a very weird Malbec, it smells more like Shiraz. Sure enough, when revealed, it was (some grapes are just really distinctive). Blackberry, pepper, and eucalyptus, with just a touch of cocoa. $70. Highly recommended.
Achaval Ferrer Malbec-Merlot 1999, Mendoza, Argentina – light earthiness, an interesting touch of graham cracker, red fruits, very explosive upfront though a slightly short finish. $40. Recommended.
Dolium Gran Reserva Malbec, 1999, Mendoza, Argentina – blackberry, cocoa, and vibrant acidity, a touch alcoholic on the finish. $70. Recommended.
Doña Paula Malbec Seleccion de Bodega 1999, Mendoza, Argentina – this is the higher end label of the Los Cardos Winery, the Argentine subsidiary of Chile's Santa Rita Winery. Red fruits, a fair amount of oak and vanilla, and somewhat high acidity. $40. Okay, but nothing special.
Penny's Hill Footprint Shiraz 2001, McLaren Vale, Australia – Another clear non-Malbec, and once again a Shiraz. Juicy raspberry fruit, black pepper, and a bit too much oak. $40. Okay, but nothing special.
Cinco Tierras Premium Reserve Familia 2003, Mendoza, Argentina – You may remember Cinco Tierras from a couple of days ago, I strongly recommended their classic Chardonnay and Malbec wines. This 50:50 blend of Malbec and Cabernet Sauvignon comes across like raspberry jam with a lot of acidity. $40. Okay, but nothing special.