Buenos Aires – Finishing off the rainy day I decided to invite a couple of friends over and whip a little something up. Besides, I missed hosting my monthly Second Sunday Supper Circle last week. In fact, with everything going on, I haven't had one since April! It'll be a little difficult to do here, since the kitchen I have is a little limited in cooking supplies, but I may give it a shot next month. With a couple of folk on their way over (or so I thought… they arrived three hours late, which in New York would have put me into orbit… here, I just shrugged and pulled stuff out of the oven until they arrived… hmm…), I ran off to the markets to do a little shopping.
Went with some easy classics. A simple roasted chicken with tarragon butter under the skin was the main course. Cooking tip for those who don't know it – soften some butter and add your favorite chopped herbs, a little salt and pepper, and then using your delicate little fingers, shove some of it under the skin of the chicken – it separates away from the meat easily – most of it will end up under the breast skin, some in the upper leg joint and back. Then rub a bit all over the outside. Then stick something aromatic (that goes with the herbs) into the cavity – don't fill it like stuffing, just something like a split-open leek, as I did, or a half a lemon. Then roast – the butter melts into the meat, the aromatic whatever perfumes it – you can't do much better!
I have a favorite potato recipe. Doesn't everyone? These were called something like "Greek Potatoes" in, if I remember correctly, the Deaf Smith Country Cookbook by Marjorie Winn Ford & Susan Hillyard, which was my first vegetarian cookbook years ago. Highly recommended, it's still generally the first book I look to for vegetable recipe ideas. Now, if I'm totally misremembering (not about the book usage, but about the source of this particular recipe), then it was from the The New Moosewood Cookbook by Mollie Katzen, which was my second vegetable cookbook. The potatoes are slow cooked in the oven in a bath of lemon, garlic, and oregano. Yummy! The recipe is here with due attribution to one of the two books listed above.
3 pounds potatoes, cubed
½ cup fresh lemon juice (2½ lemons)
⅓ cup vegetable oil
1 tablespoon olive oil
2 teaspoons salt
½ teaspoon black pepper
1½ teaspoons dried oregano
2 garlic cloves, minced or pressed
3 cups hot water
chopped fresh parsley

Toss together the potatoes, lemon juice, oils, spices, and garlic in deep flat pan about 8×12 inches. Add the water. Bake uncovered for about 1½ hours at 475°. Stir every 20 minutes adding more water if necessary to prevent sticking. Be very careful not to burn the potatoes during the last 30 minutes. During the final 15-20 minutes, allow the water to evaporate until only the oil is left. Garnish with parsley and serve.
Also whipped up some of those Zapallito Redondo Milanesas that I covered a few days ago – if you missed them, check 'em out on July 11th's post. And my friends showed up with a tasty ricotta torte for dessert.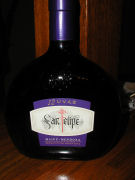 When I first came down to Argentina last February, my boss, Matthew, from Heights Chateau, asked me to find him a bottle of wine called "Doce Uvas" (12 grapes in Italian) from the Felipe Rutini winery. I hit every wine shop I came across and no one had ever heard of it – until one day I wandered into a small shop and the owner, an older gentleman, burst out laughing at my request. In his best attempt to dumb down Spanish to my level at the time, he told me that I'd never find the wine in a wine store, that first, San Felipe is the second label of the winery that makes Felipe Rutini wines, Bodega La Rural, and, that this particular wine was their "jug wine", made of a blend of leftover grapes, and primarily sold in supermarkets. Sure enough, the first supermarket I walked into had a display of Viña San Felipe wines, including the 12 Uvas. All for 7 pesos and change apiece – at the time, about $2.75 a bottle. Still, I brought Matthew back a bottle, and later he reported that it was quite good.
So there I was in the supermarket, gathering items for dinner, and thought, what-the-hell? So I grabbed a bottle, and am happy to report that not only did it go well with the roast chicken, but it was one of the better "value" wines I've ever had. It is indeed a blend of twelve grapes, I can't tell you whether it's "leftovers", or if it's just a blend someone decided at some point to try, but if you come across a bottle, I recommend it highly for your next casual dinner. The grapes, by the way, are of French, Italian, and Spanish extraction, and are not all ones that are typically seen in Argentina: Cabernet Sauvignon, Cabernet Franc, Merlot, Malbec, Syrah, Sangiovese, Barbera, Pinot Noir, Tempranillo, and… two white grapes, Chardonnay and Chenin Blanc! Medium bodied, with a delightful blend of spices and different fruit flavors, the winery recommends a slight chill on the wine and to serve it with simple grilled foods.