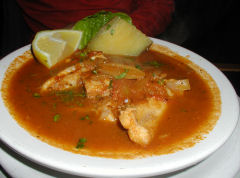 Buenos Aires – Peruvian cuisine isn't the first thing I think of in Argentina. However, Henry is from Peru, and isn't particularly fond of Argentinian cuisine. By comparison, Argentinian food tends to be blander, there's no question. So, off we went to one of his favorites, Status, located at Virrey Cevallos, 178, near the Congreso Nacional.
One big plus to Peruvian cuisine is that the Peruvians eat more seafood than the Argentinians do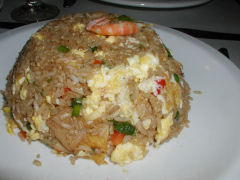 (I haven't quite figured out the porteño (resident of Buenos Aires) aversion to eating anything from the ocean). I'm a big fish and shellfish fan, and so I know that it's places like this I'll have to come when I want to dine out on denizens of the sea. A lovely and slightly spicy Sopa de Pescados (fish soup in a tomato broth), and an Arroz Chaufa de Mariscos (basically fried rice with shellfish) were our main courses. A couple of salads; his a mixed lettuce, tomato and onion, mine a delicious platter of fresh tomatoes with just a touch of salt and lemon.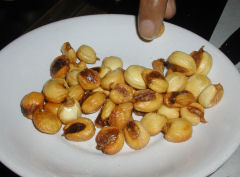 But the fun thing was a little Peruvian hors d'oeuvres, one of my favorites. It's called Cancha. Simply, a far better alternative to popcorn, which to me tastes and feels like styrofoam. It uses a large kernelled maize that is grown in Peru. The kernels are dried and then toasted in oil until the puff slightly and brown. They are sprinkled with salt and then eaten. Yum!
Rather than a new post, just an addition. 'Twas Peruvian cuisine again for dinner after we connected up with some friends who wanted to go out. This time it was off to the Belgrano neighborhood to Contigo Peru (Echevarria, 1627), a clearly tourist oriented venue – the menu printed in Spanish, English & Japanese – not to mention the sign over the door saying "Restaurante Touristica". A vaster selection of dishes, but not the quality of Status, however, at one-third the price, not a bad way to sample some interesting dishes. We had quite good tamales, and a dish called Ocopa – slices of potato in a cream, walnut and cheese sauce. Worth a trip if you've got a group that wants to try several things and share.