Key West – If you know a little bit about fermentation, you know you don't need grapes to make it happen. Anything with a sugar content (or a starch that can be converted to a sugar) can be fermented. And wine doesn't have to come from grapes. Anyone from my generation is likely to remember cutting their teeth on a bottle of Boone's Farm or Annie Greensprings apple wines (and various other flavors). Having grown up in the midwest I regularly encountered apple, cherry, and blueberry wines. Elton John & Bernie Taupin wrote about Elderberry Wine. Numerous folks have written about Dandelion Wine. Tom T. Hall whipped out a ballad on Watermelon Wine. The possibilities are endless.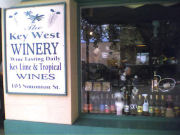 And that seems to be the philosophy of the folks at The Key West Winery. Nary a grape is to be found. Plenty of Florida sunshine creeps in with various versions of citrus. There's also a selection of tropical fruits, a smattering of various berries, and a couple of vegetables. I sampled my way through about a dozen of their selections, and, overall, was surprisingly delighted with them.
Not surprisingly, their signature wine is the Key Limen – there's no question about the ripe, tart lime flavor. The wine is quite dry, and I think it would make a wonderful match with some quickly sauteed scallops. Staying in the citrus world, I thought the Tangiers (tangerine) was also delightful, with a hint of sweetness to it. The Tangelo was just a tad too sweet for my personal tastes, but had nice flavor. The Florida Grapefruit (pink) was also a bit sweet, and I thought a touch cloying – I have the feeling I'd have liked one made from white/yellow grapefruit a whole lot more.
There was a bit more variety to the orange wines. First off there's both a dry and semi-dry version of Orange Sunshine – noticeably different, and again, for my tastes, the dry version was significantly better. There are also two dessert wines made with oranges. Midnight Sun starts off with a sweet orange wine and ages it with fresh roasted coffee beans. I can't say it excited me. It was interesting, but not my thing. The other choice, Cocoa Beach, is a blend of fresh orange juice and rich chocolate that is fermented together. The result is much more liqueur-ish than wine-ish, but quite good! It reminded me of the Sabra liqueur that my parents used to keep around the house.
On the tropical side I only tried the Mango Mamma. There's no question that it's mango. The flavor is very intense. It reminded me more of a cocktail, say mango puree and vodka, than a wine, but one heck of a good cocktail. From the berry world I sampled the Blueberry Blue, a semi-sweet, but somewhat light, blueberry wine. It wasn't bad, but I've had better. Still, it would make a nice match with a barbecued salmon, or perhaps after dinner with a lighter cheesecake. From the vegetable side I was very curious about the 40 Karats – and I'm glad I was! Made with fresh carrot juice, the result is a fairly dry, slightly buttery, and just faintly carroty wine that I think would make a great pairing with a simple veal chop.